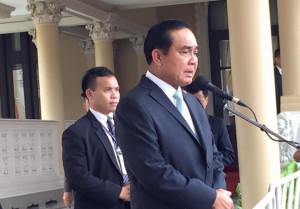 BANGKOK, 22 July 2015 (NNT) – Prime Minister Gen Prayut Chan-ocha says his government will carry on with its crackdown on human trafficking, regardless of how the U.S. rates the country's concerted effort to end the scourge.
Speaking about the U.S. State Department's annual ranking of global counter-trafficking efforts set for July 27, Gen Prayut commented his government will not be despondent if the U.S. maintains a low ranking of the country's performance, nor will it be overjoyed if its world ranking improves.
The U.S. last year lowered Thailand to its "tier 3" list of worst offenders along with 22 countries. The rating prompted the government to vow to spare no effort in addressing the deep-rooted problems. High-profile operations included the exposing of a human trafficking network in the South and the registration and licensing of fishing boats to solve the problem of Illegal, Unreported and Unregulated Fishing (IUU).
Gen Prayut confirmed, that with or without an improved US human rights rating, his government will still try its best to eradicate all forms of human abuse in a systematic manner, however complex the problems are.
Source: http://thainews.prd.go.th/CenterWeb/NewsEN/NewsDetail?NT01_NewsID=WNSOC5807220010064#sthash.5w4eN0iI.6fVWG3v2.dpuf
PM vows to continue crackdown on human trade despite US rating